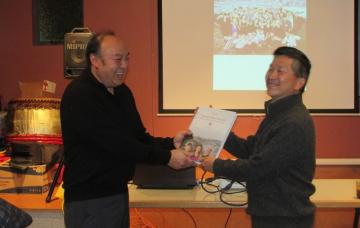 9 June, 2016
The Governor General Sir Jerry Mateparae, together with the Minister of Ethnic Communities Hon Peseta Sam Lotu-Iiga, the Chief of Army Major General Peter Kelly, the National Senior Vice President of the Royal New Zealand Returned Services AssociationMr Bob Hill, the Deputy Head of Mission of the Embassy of the People's Republic of China Mr Qu Guangzhou, and other distinguished guests attended the official launch of a book about Australian and New Zealand ANZACSof Chinese descent during World War One at the Pukeahu National War Memorial Park on 8 March 2016 at 6.00pm.
18 March, 2016
The National President of the New Zealand Chinese Association (NZCA) Mr Meng Foon doubts that there are many unemployed Chinese chefs in New Zealand and certainly none in Gisborne where he is mayor.
17 February, 2016
The Auckland Chinese Association Newsletter for Autumn - February 2016 is now available.